The Making of 'Tangalooma Point'


Shoot Time: 10:58am
Camera: Nikon D300
Lens: Tokina 12-24 ATX Pro F/4.0
Focal Length: 12mm
Camera Mode: Manual
File Format: Nikon RAW
ISO: 100
Aperture: F22
Shutter Speed: 1/25th sec
Tripod Used: Yes
Filter Used: Circular Polarising
Other Equipment: Cable Release
One of my all time favourite locations on Moreton Island, is Tangalooma Point on a perfect day and at low tide. On a really low tide you can walk from the point out towards the ocean on a sand bank that is only revealed at low tide. Looking back to Moreton Island is such a stunning view, and to be standing in an area that spends 80% of it's time underwater is a magical feeling.
To me this photograph epitomises the island paradise of Moreton Island, with its stunning clear white beaches and turquoise crystal clear waters. Wanting to show this in the photograph takes out a lot of decision making for me in that the shoot time must be between 10am - 12pm for maximum polarisation effect, (what I call the travel brochure look), when shooting in this direction, (on a pristine day). The fact we have so much light around makes it a very simple shoot with regards to getting our exposure settings within controllable perimeters. The key to this shot, is what I often refer to as 'The Travel Brochure Filter', more correctly named a Circular Polarising filter. Similar to polarising sunglasses, circular polarising filters reduce glare and reflections from surfaces, resulting in a stronger, more saturated colour with reduced reflections, (great for choosing through windows and photographing water). This filter is an essential for any camera bag, especially when travelling to sunny places.
Knowing that I don't want to hide any of this beautiful scenery, dictates that I shoot with a large depth of field, such as an aperture of F22, (this means that I will have clear detail from foreground, through background equally), and focused one third of the way in to the image, (ideal focus point for infinity focus). As it was so bright, my ISO was on the camera's minimum Iso setting of 100, (ISO is the camera's sensitivity to light). This ensures it will be as high a quality as possible without any interference of noise, (digital grain), present. With my ISO and aperture now determined, I only had to see what the camera suggested for my shutter speed, which ended up being 1/25th sec, requiring the camera to be tripod mounted to avoid camera shake, (as a general rule of thumb if your required shutter speed is less than the focal length you are shooting at it is best to be tripod mounted to avoid camera shake). Last thing to do was to polarise the image, rotating my polarising filter until maximum polarisation was reached, (which in ideal conditions like this day was very noticeable). If you haven't ever used a polarising filter, get one and play with it, polarising and un-polaring your photos and check out the huge difference it makes!
Utilising strong composition for placement of key elements in this photo, (not that there are many), I have created a compositionally correct image, which aesthetically, when viewed is pleasing on the viewer's eye. The two key compositional elements here are the rule of third placement of the horizon line on the top third, and the leading line of the waterline in to the image from the bottom right hand side, leading to the cross over point of our top and left rule of third lines. This draws the viewers eyes in to the image nicely, and effortlessly. See the below diagram:


The image was taken as a full frame image, as the Nikon D300 does not allow a panoramic mode, such as some modern cameras or mobile phones can. With this in mind the photo was taken knowing that I would be cropping the image in post production to achieve my desired panoramic look.
Of all the photographs I've ever taken this image was one of the simplest images ever to post produce, due to mother nature herself giving me a stunning scene to work with, only a few tire tracks on the beach, footprints in the sand etc to have to deal with.
As this was shot on a 3:2 ratio camera it required cropping the top and bottom of the images out to create it's current 3:1 ratio, (panoramic appearance). I will be posting a tutorial soon on how to do this in Adobe Lightroom, keep an eye out for that one! Knowing if you are going to crop the image to be panoramic is something that you should ideally know at the time of shooting, and was something I had allowed for when shooting this shot.
In Lightroom, I tweaked the curve lines of this image to bring the image in line with what I saw on the day and to give it it's true blacks, bright highlights and subtle tones back, (remember than a camera does not capture exactly what we see, so post production corrections are essential). I then added extra saturation to the image, (be careful when doing this as this is where a lot of people get carried away and over saturate to the extent of doing irreparable damage to their images, remember to always keep it within a realistically printable range, and not just go by it's on screen appearance - every image looks pretty when over saturated on a screen!).
In Adobe Photoshop, with the use of the cloning tool I was able to simply remove all the footprints, and what few tyre tracks were visible in the shot to 'tidy' up the beach a little, to give it it's untouched appearance.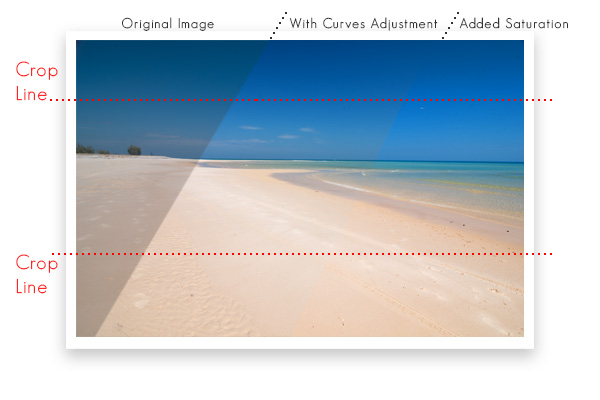 Voila! That's the making of this truly iconic Tangalooma Point photo. So simple and yet so effective. I hope you like it!